The Wizard is the first function you will meet when logging into Audiorista for the first time. After creating an account, it will help you get started with the basics and set up the dashboard. You can choose to skip the wizard and jump directly to the dashboard, but if you are new, we recommend you take a moment to go through it. There are only nine steps, and it only takes 5 minutes. Your decisions at this stage are not final, and you can apply changes later on if you change your mind about something.
STEP 1 - Start the Wizard
After creating an account and starting a new project, you will have the option to either skip or start the Project Wizard. We suggest that you take a few minutes to go through the steps. Select Start the Project Wizard.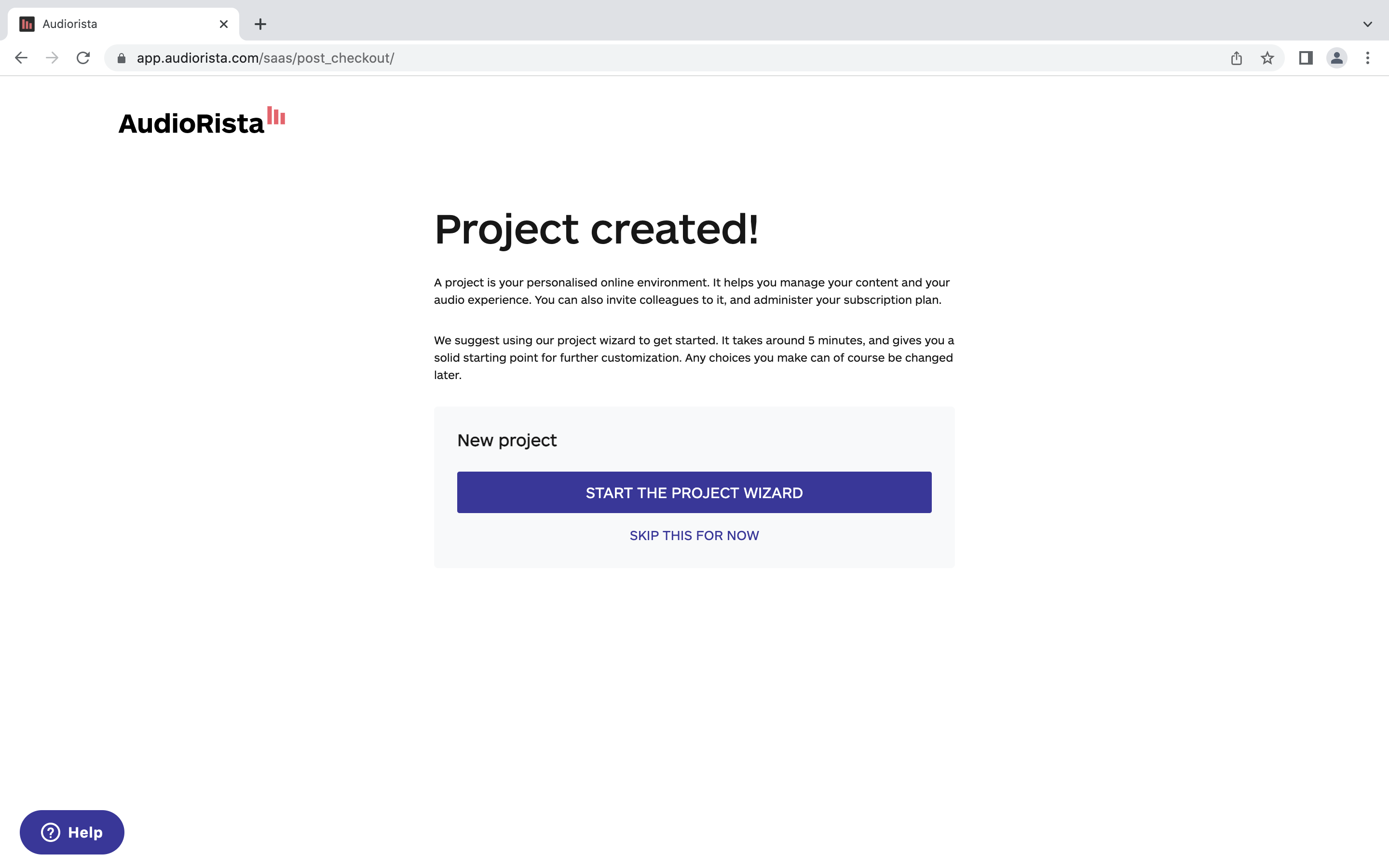 STEP 2 - App name and language
Now that you are in the Wizard, let's cover the basics. First, type the name of your app in the white space. Then, select your preferred language in the drop-down menu under App language. English is the default setting. You will always be able to change the settings later on.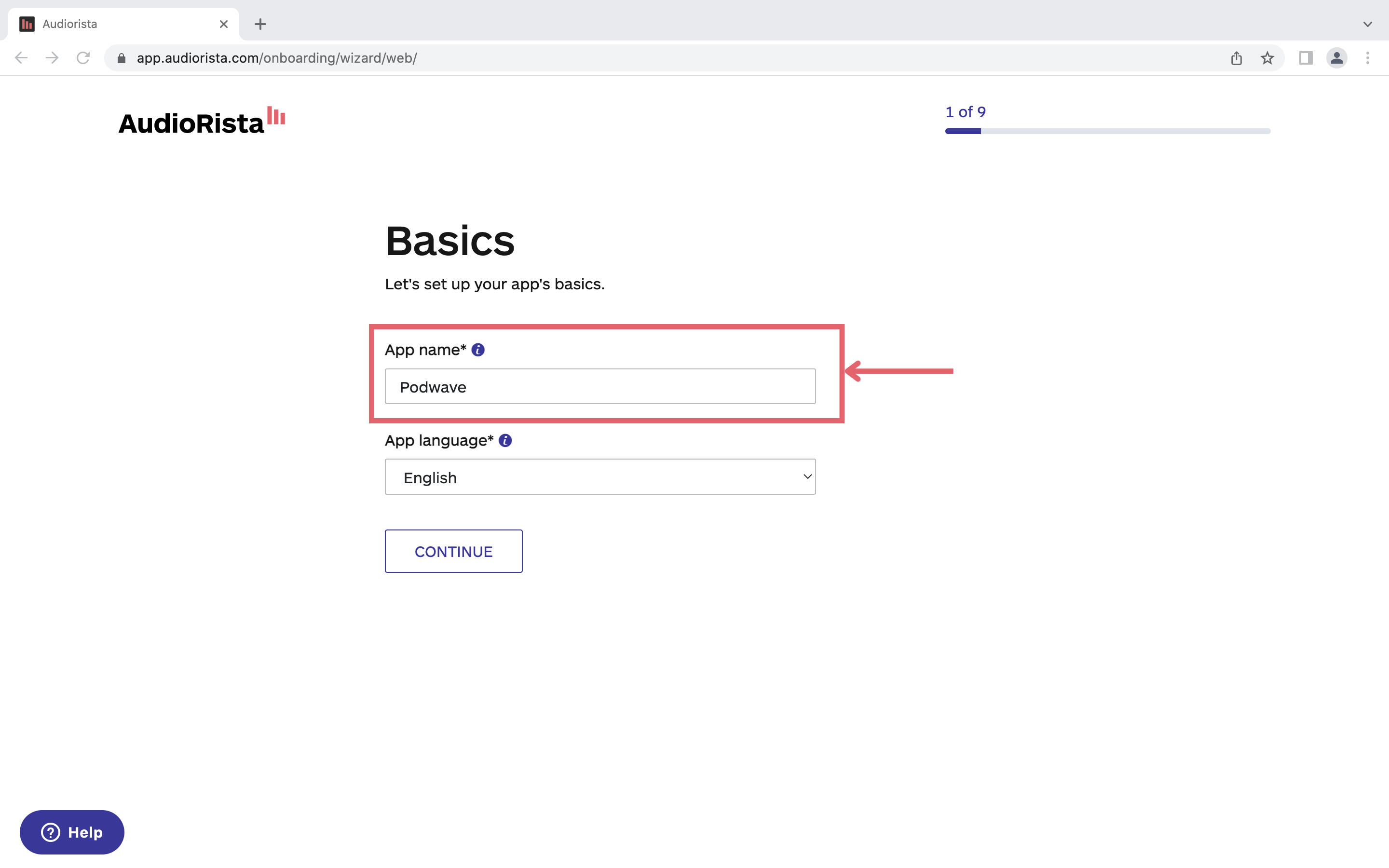 STEP 3 - Login and Signup
How do you want your users to login into your app? You have two choices. When you select one of them, the Wizard will automatically set it up for you, and then you will be able to change the settings and do the customization at a later stage.
Login through the default login option
The default option is to log in with email and password - this is supported both on the browser and app
Audiorista also supports login with Apple, Google, and Facebook. However, this option is only supported on the app. This option requires you to set up a free Google Firebase account that you will use for creating your authentication database.
Audiorista also supports anonymous login. In the case, you want to allow end users to access your content through a link without requiring them to set up an account in advance.
→ Related article: Creating a Firebase account
Login through custom SSO
If you have an existing website with users and a login flow that you would like to continue using, then you can choose this option. Audiorista supports WordPress and many of the most common logins flow out of the box, for example, OAuth2 and OpenID.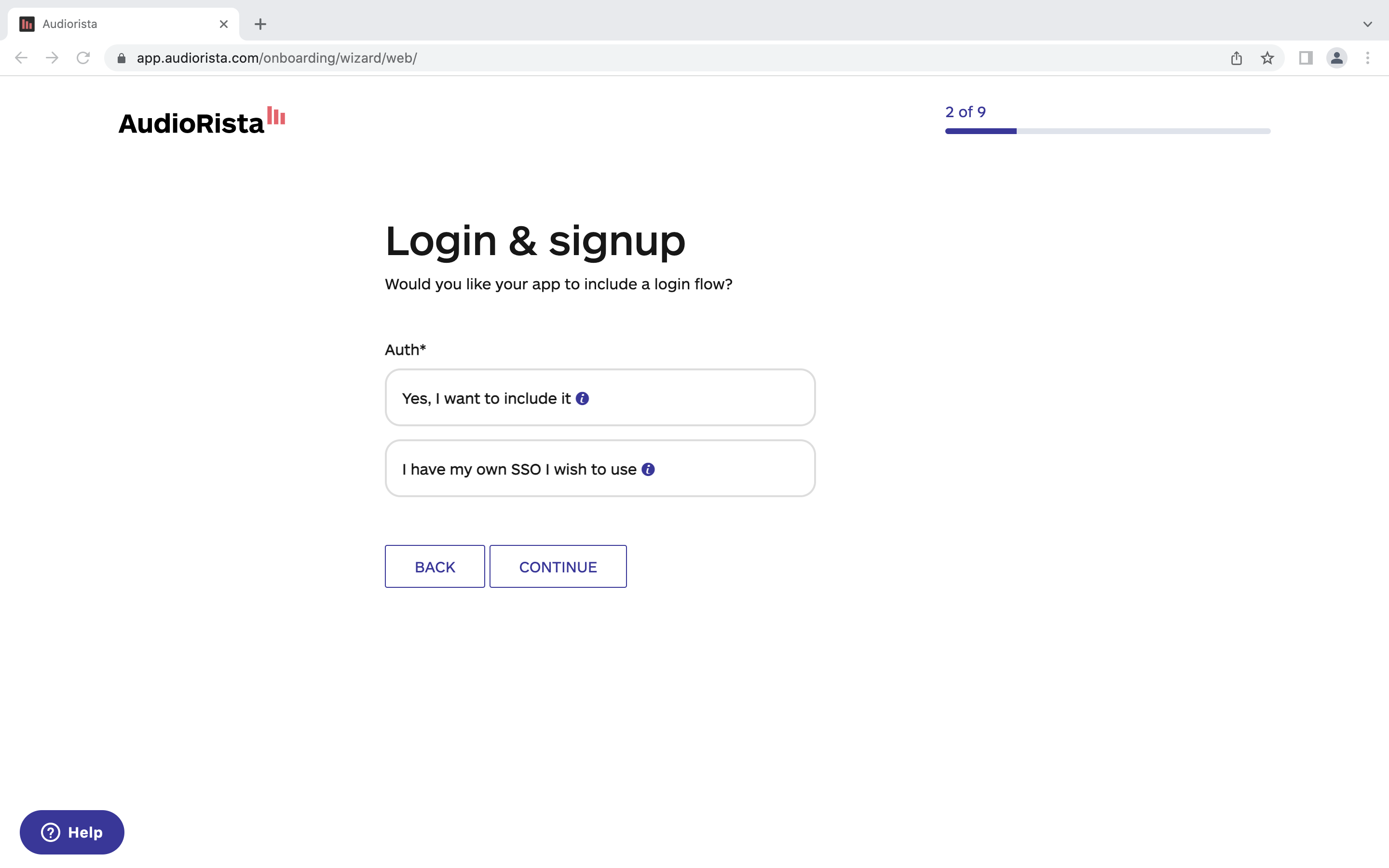 STEP 4 - Paywall
Depending on your business model, you can decide whether your users should pay for your service (yes, I want a subscription model) or not (no, I do not want a subscription model). You can set up the payment details and framework later, from Audiorista's dashboard.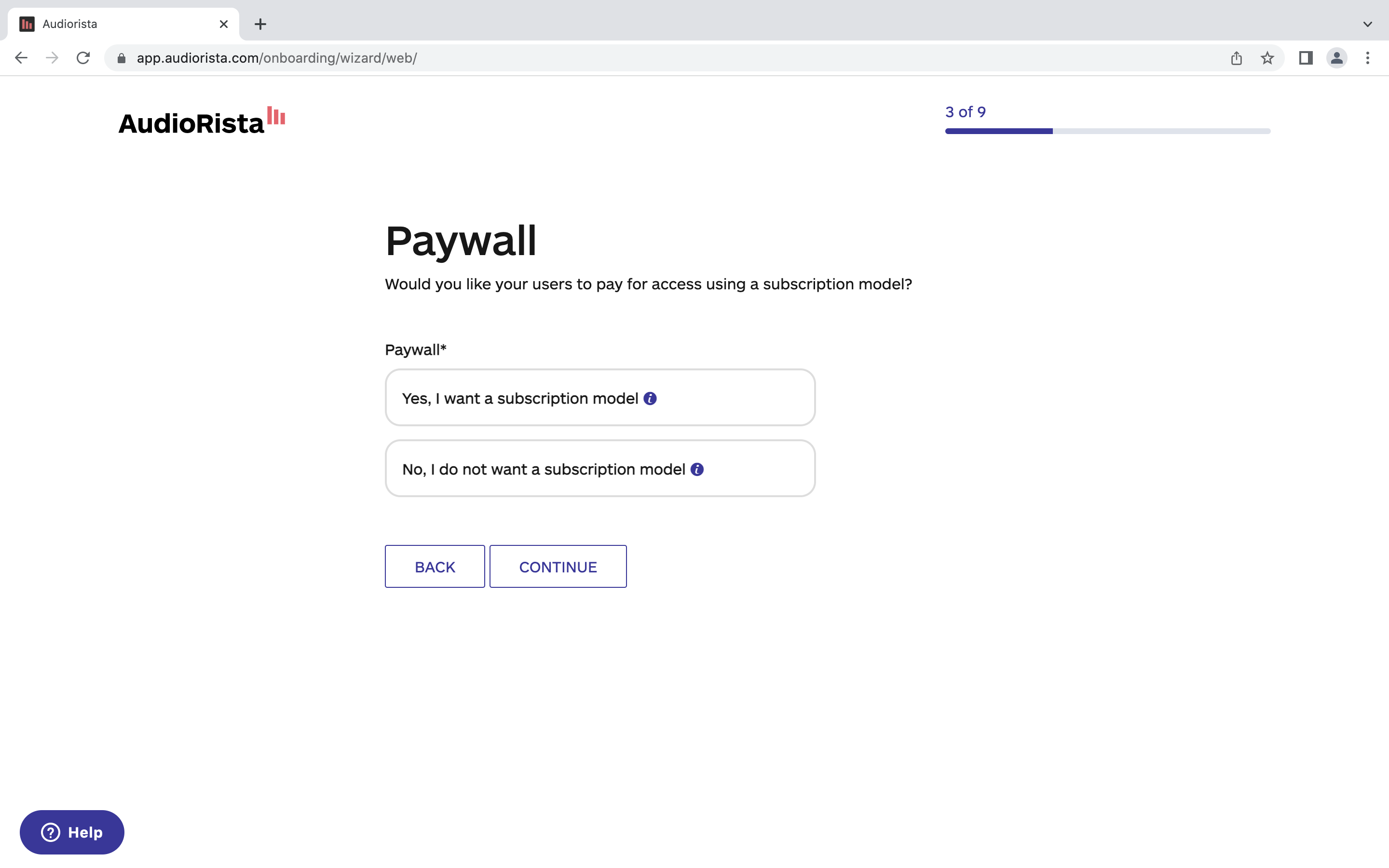 STEP 5 - Navigation
Here you can decide which navigation style your app will show to the end user. You have two options. No matter what you choose now, you can always change it later.
Feed tab: a screen showing a list of Tracks that can be rearranged and organized based on different criteria, for example by alphabetical order or by date. It's a great option for overviews.
Browse tab: this allows you to navigate the content by category.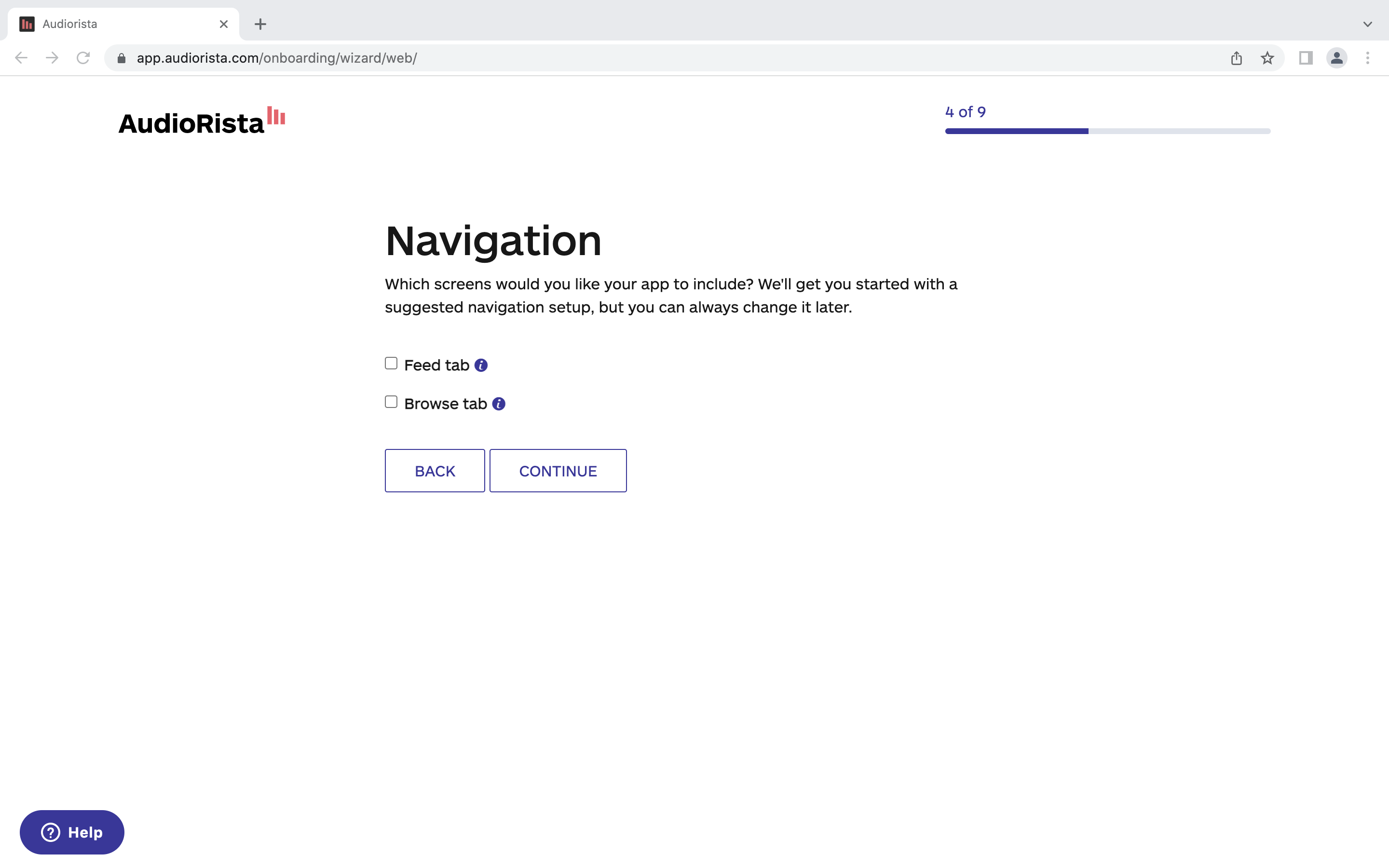 STEP 6 - Brand colors
Customize the look of your app by choosing a unique color for your brand. Click on the colored bar and select a Primary color by hovering the mouse on the color scale.
In addition, you can choose either a Light or Dark look for your app.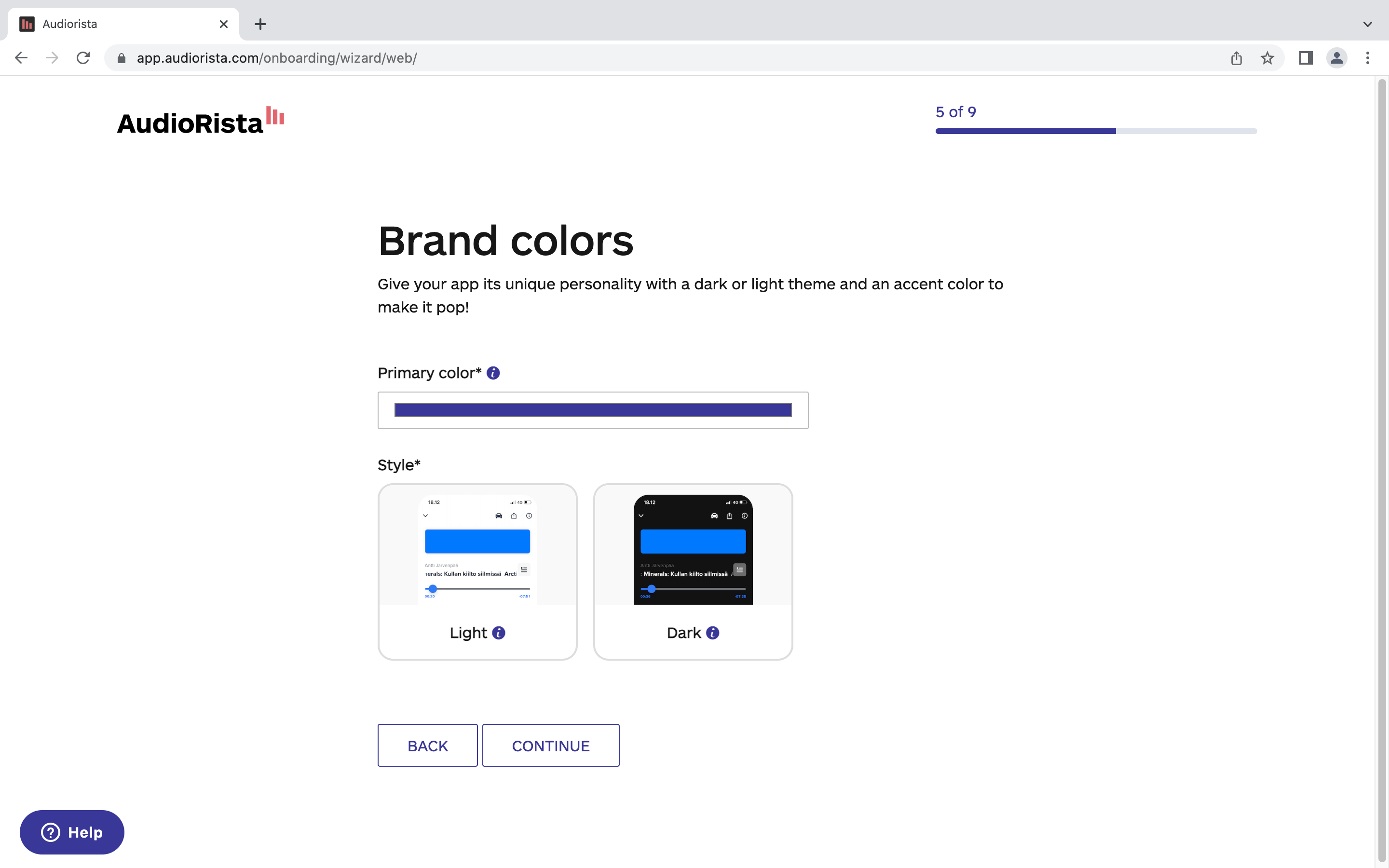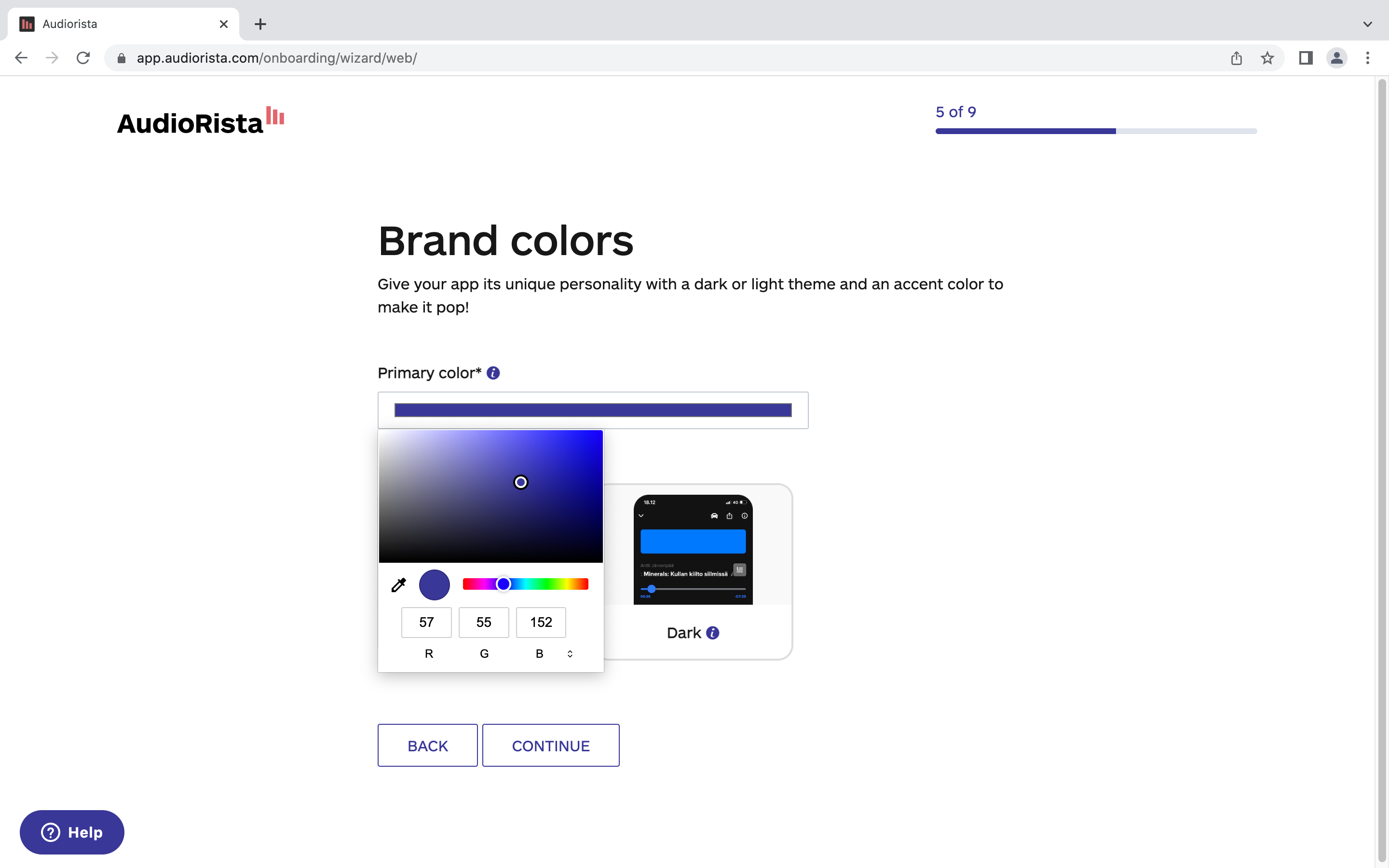 STEP 7 - Brand logo
Add your logo and make your app more recognizable. You will always be able to change your icons and logo later, and you can also decide to skip this step and add your logo later from the dashboard.
App icon: the app icon that the end user will see on their phone screen
Navbar logo: your logo as shown inside the app, in the navigation menu
Splash screen logo: your logo icon that appears when the app is loading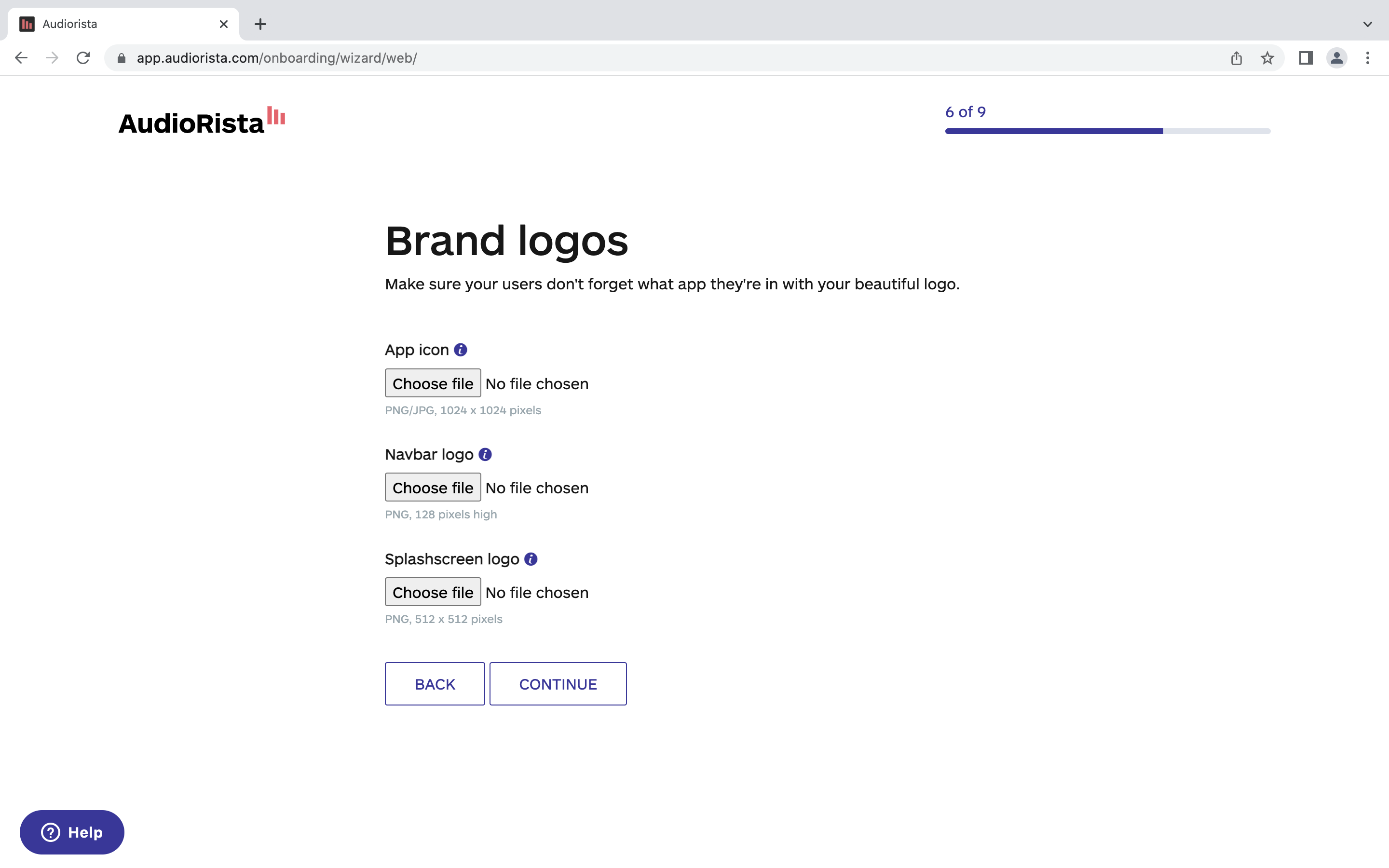 STEP 8 - Migration
You have different options to import your audio content into Audiorista. You can select here your preferred method.
New app - upload myself: the quickest way of importing a few files
I have a podcast I want to migrate: if you have your content in an RSS feed
I have a complex migration, get in touch: if you have a very large catalog or different syncing requirements.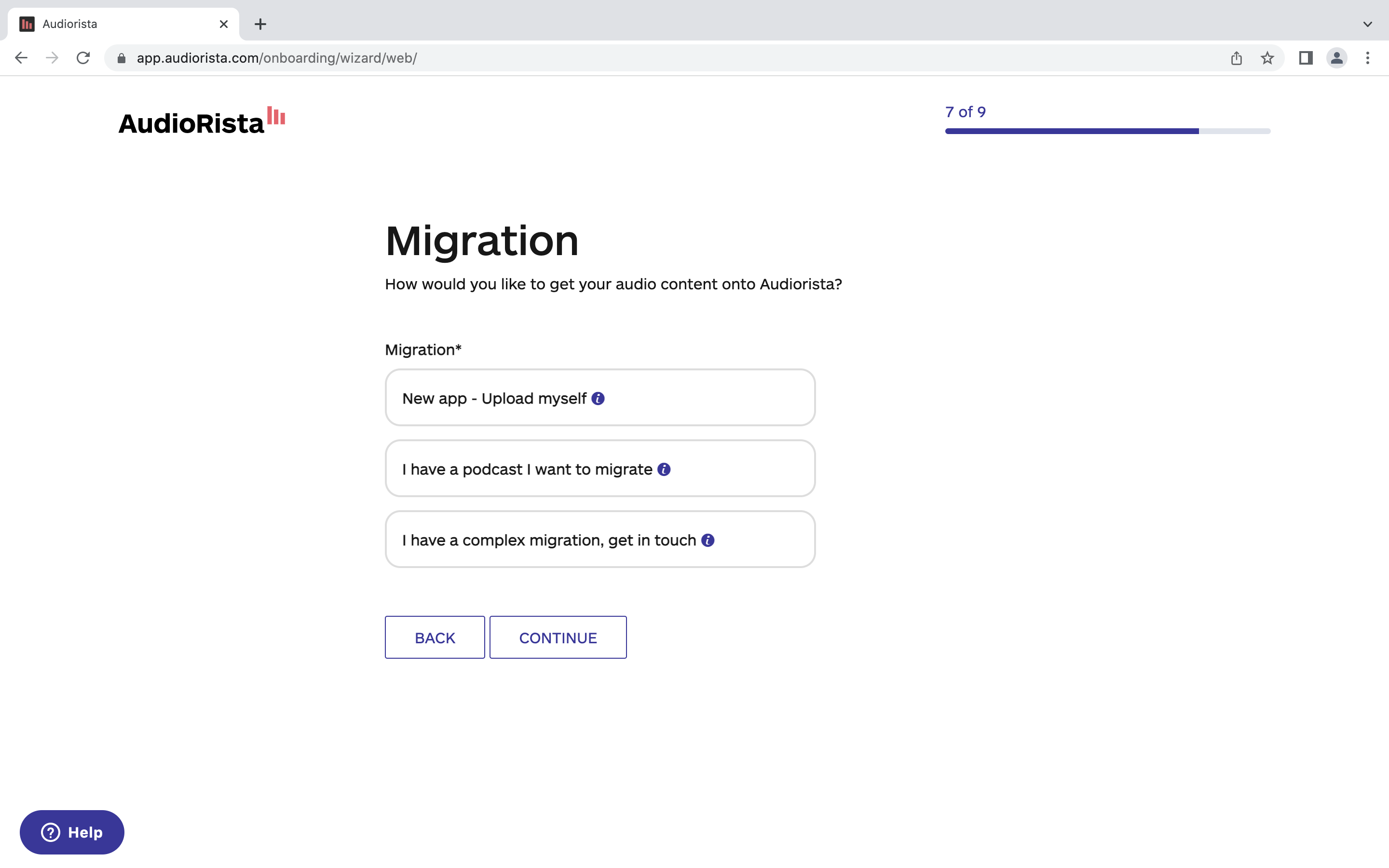 STEP 9 - Platforms
Building a Web app is the fastest way to get started with Audiorista. It is also currently the only available option in the Wizard.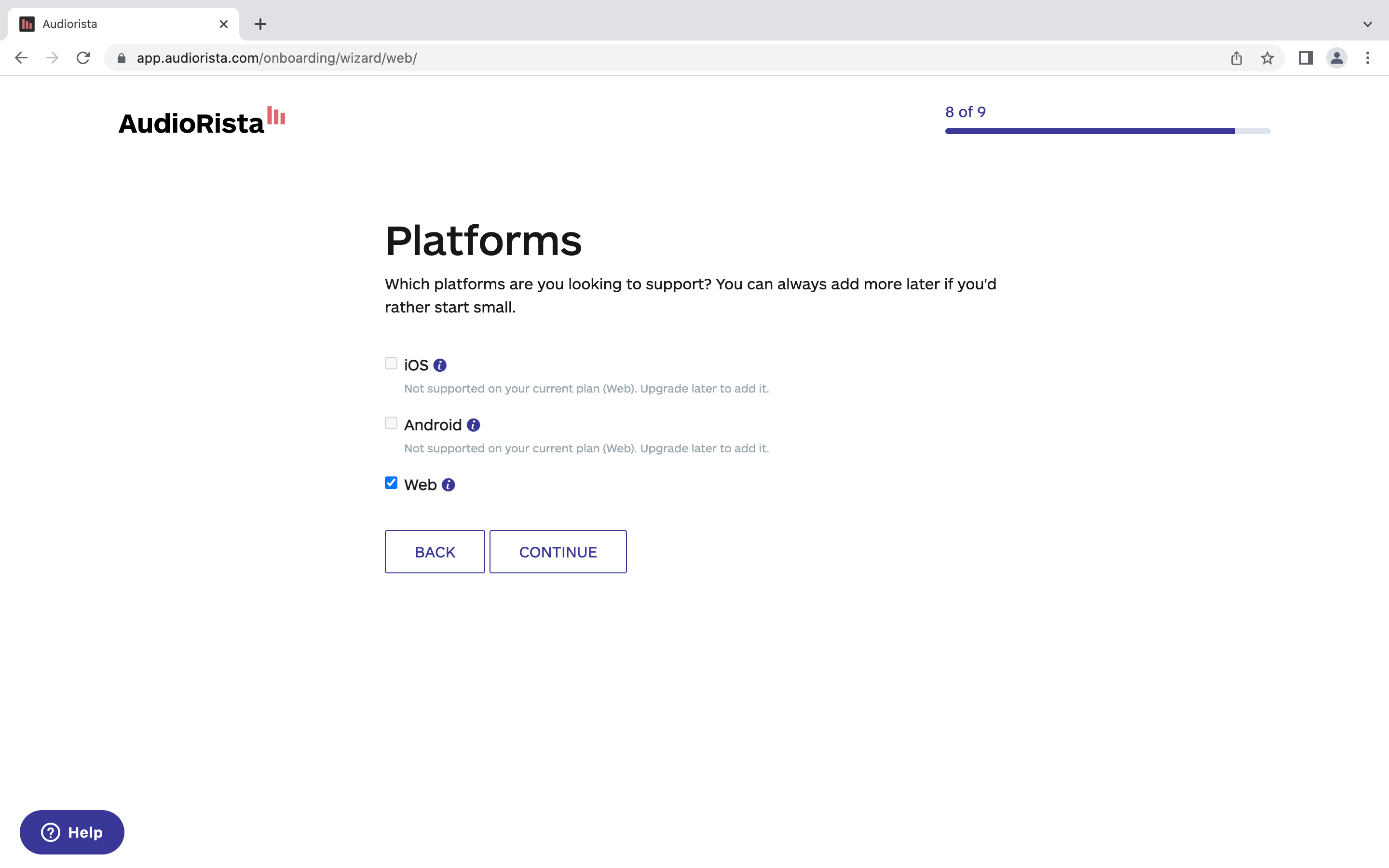 STEP 10 - Services
Audiorista offers lots of other ways to get your audio out there. Let us know which of the following options you would like to enable.
Podcast distribution
Sharepage
Widget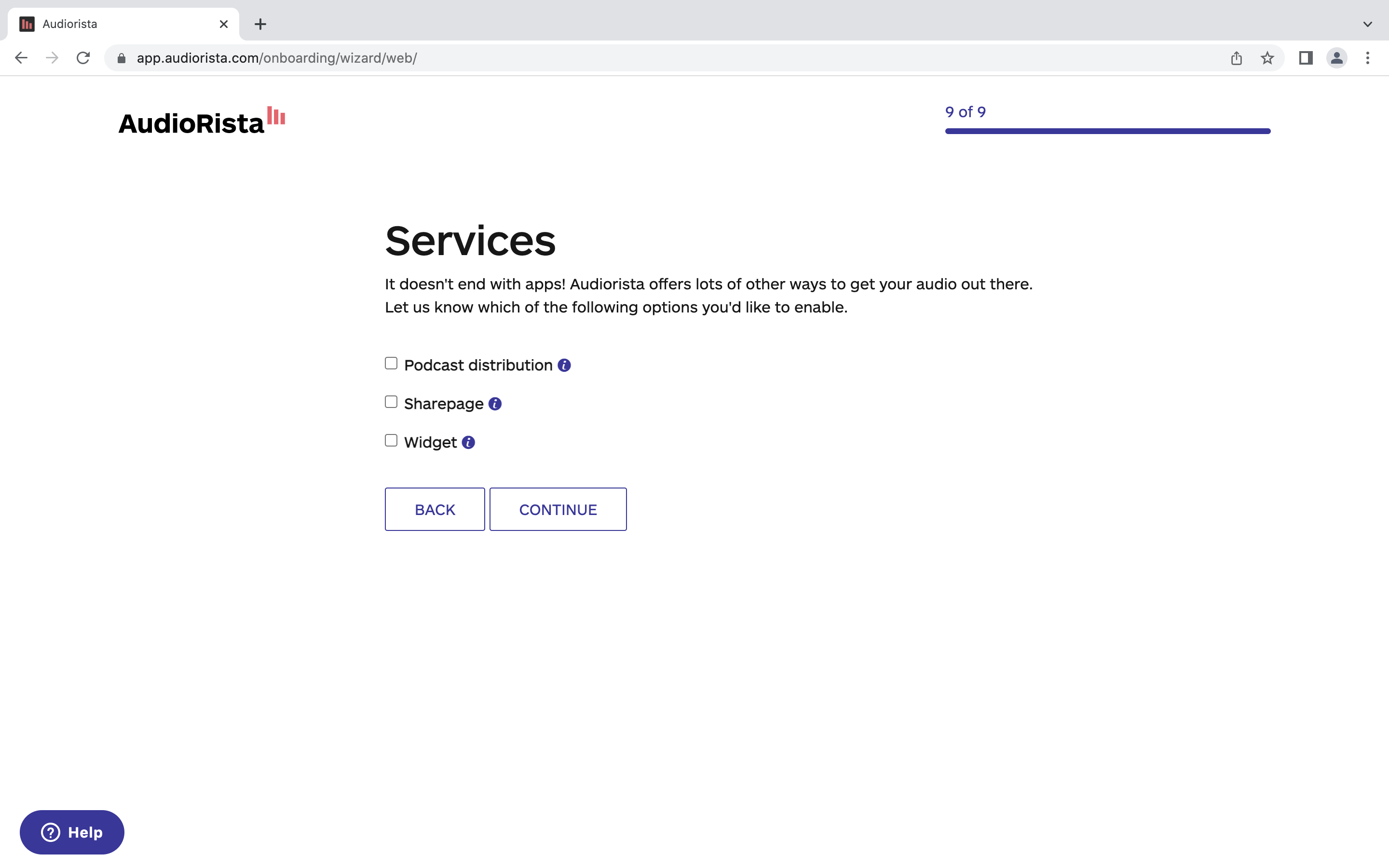 STEP 11 - You are all set and ready to start
Based on your input, the Wizard has created a list of tasks to get your profile up and running. You will see the list in the dashboard, once you are through the Project Wizard. Set up your platform for success by implementing all of them.